Cool-Cut and Section Transfer System ( Cool-Cut)
Maintain a cool, consistent temperature for paraffin blocks during the sectioning process with the Thermo Scientific™ Cool-Cut accessory. Fits only Thermo Scientific rotary microtomes.
    Directly fits onto the specimen cylinder of the rotary microtome line
    Ability to be equipped as a universal cassette clamp or standard specimen clamp
    Effective when extended cutting periods on the microtome are required to "step section" or "serial section" through the paraffin block
Includes:
    Peltier device with integrated specimen clamp
    Counter-balance weights
    Power supply
Section Transfer System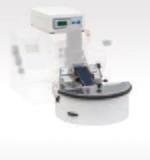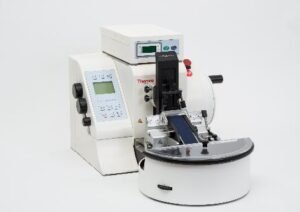 Reduce manual handling by automatically transferring section ribbons from the blade to the water bath with the Thermo Scientific™ Section Transfer System™. Adjustable, laminar water flow rate avoids tissue section damage allowing for more usable sections per block. Sections are stretched due to the smooth water flow, providing extremely thin, as well as high-quality, sectioning results.
Disposable – Yes
Electrical Requirements – 100/240V 50/60Hz
Recommended Applications – Healthcare
Type – Section Transfer System
For Use With (Equipment) – Rotary microtomes (HM325, HM340E, HM355S)
Height (Metric) STS: 130mm
Width (Metric)  STS: 300mm
Depth (Metric)  STS: 300mm
Weight (Metric)                STS complete: 4.4kg
Hertz     50/60Hz
Voltage                100/240V